← Previous Altea Dining room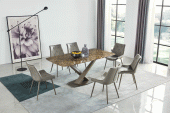 Next 311 Marble Dining Table with 137 Chairs →
← →
You may also press keyboard arrows
or click at page corners for navigation
152 Marble Dining Table with 196 Grey Chairs
20% OFF!
$2868
$2294
Colors: White, Grey/Silver, Marble
Materials: Eco Leather, Glass, Metal, Marble and Marble looking
Finishes: Mat, Shiny
Item Description
Exclusive Dining Set with Grey Accent Will Give Your Space Modern Look.
Table : central top is artificial marble based on natural marble; Leafs: glass closed by marble paper.
Base: Solid Steel Black Color Base.
Chair: Grey Eco Leather , Grey Painted Metal Legs
Inventory is updated on 09/22/2023
The inventory quantities are subject to change, please call for more updated information