← Previous 1388 Coffee Table w/ storage Grey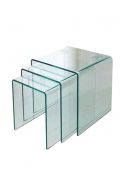 Next ND-01 Set of 3 Tables →
← →
You may also press keyboard arrows
or click at page corners for navigation
The coffee table epitomizes an essential and modern design with linear metal structure.
Kali Coffee Table
Colors: Black, Special Order, Brown/Walnut
Materials: Special Order Materials
Finishes: Special Order Finish
Item Description
Piece of furniture, balance between eclecticism and simplicity. Accurate design unveils elegant structures, a perfect sequence of open and closed spaces.
Inventory is updated on 09/28/2023
The inventory quantities are subject to change, please call for more updated information