← Previous 312 Sectional w/Bed and Electric Recliner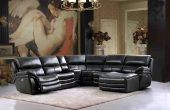 Next 2711 Sectional with 3 Electric Recliners →
← →
You may also press keyboard arrows
or click at page corners for navigation
View Larger Image
More Images and Dimensions

This cozy sofa fabric sectional will become a harmonious element of any modern interior.
For greater comfort, it is possible to adjust the position of the head rest.
Corner Sofas are laid out in a comfortable bed for sleeping. A reliable orthopedic design contributes to comfortable use every day.
Upholstery made of dark blue fabric, wooden legs. Includes three pillows.