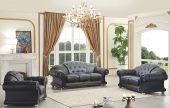 ← Previous Apolo Black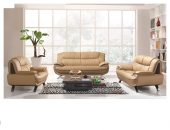 Next 405 Brown →
← →
You may also press keyboard arrows
or click at page corners for navigation
View Larger Image
More Images and Dimensions

Leather stock color: #2028 Orange
Upholstery Material:Top-grain Leather Front/Eco Leather Back

This modern living room set will become a functional accent of your living room. Decorated with ball arm support and roller-shape feet, every item is wrapped finest genuine Italian leather
combined with skillfully matched leatherette on the back and where contact is minimal. Full leather in variety of colors available for special ordering.

Seat:
Depth - 21"
Height - 19"

While we try to represent to the best of our ability with photos and accurate picture of the products, we cannot guarantee an exact match on color or finish. Please understand that actual finishes or colors of the products may differ from photos, depending on lighting situations and monitor settings. Due to the natural characteristics of some materials, colors, veins and grains will vary. ESF Trading cannot accept returns due to the color mismatches - it is the customer's responsibility to match colors before ordering!